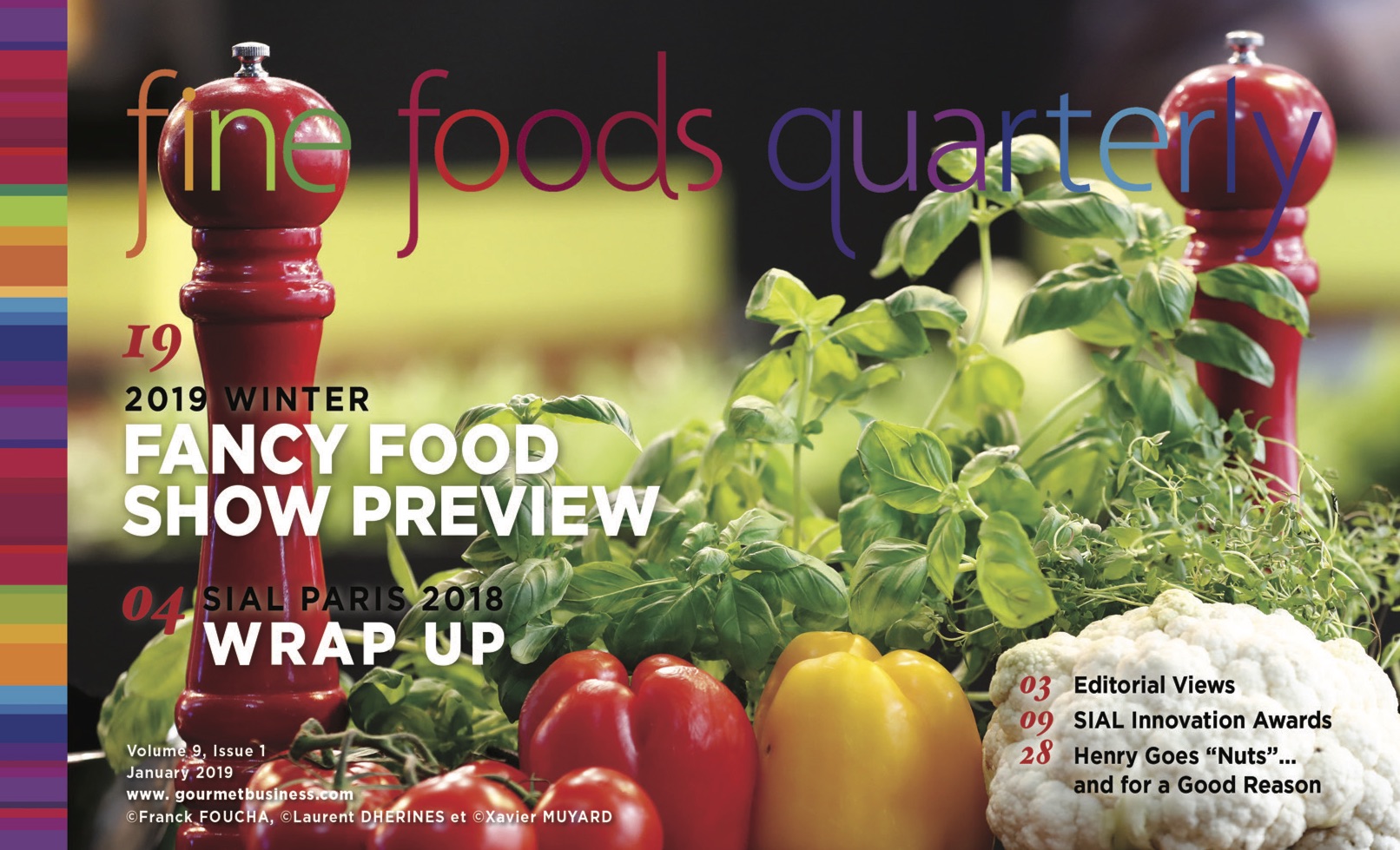 It's a new year, and it's time to descend on San Francisco for the Winter Fancy Food Show. I always look forward to seeing what specialty food producers have come up with to excite our pallets. In this issue you will find some of the new items that I was able to preview, along with some of my special finds from SIAL Paris.
In all of the industries we report on here at Gourmet Business we have found that the most prevalent trend driving product development are products that have an obvious positive impact on personal health and well being. In the specialty food industry this has lead to the emergence of many new terms and ingredients that we are not necessarily used to seeing. How many of you could even pronounce quinoa properly 3 years ago? How many of you are yet to even try quinoa? Well chances are you going to eat it now, whether you like it or not, along with flax, chia and various other healthy and superfood ingredients that you may be unfamiliar with.
Products that appeal to those on a gluten-free diets have proliferated as well, with many people choosing these products because they have the impression of being healthy even if your not purposely avoiding gluten. Awareness of the dangers of GMO ingredients is certainly on the rise too, thanks in large part to the multitude of movies and stories that will cause concern for anyone exposed to them. You can expect to taste more products calling out their non-GMO benefit. Ancient grains are another popular term that infers that they are produced with grains that come from seeds that were used long before GMO became a household term.
I recently saw an interesting piece of consumer research surrounding meal delivery kits. As popular as people make them sound, I guess they are being purchased by a very small percentage of consumers. I think there is no question that preparation time is a large impediment to cooking from scratch. On the other hand, many are trying to avoid prepared foods and cook from scratch because they understand it can have a positive benefit to their health. I think that the specialty food industry can be very helpful in creating and packaging products that can help minimize the preparation of a good meal, while keeping it healthy too. I expect that cooking sauces with clean labels, great flavor, and the ability to choose your own protein will grow significantly to help consumers battle this class predicament. Pre made spice blends that can zest up sautéed or grilled foods, and deliver exotic flavors that consumers are eager to try will also attract attention and taste trials.
I hope everyone enjoys the show, and has a successful 2019 in business.