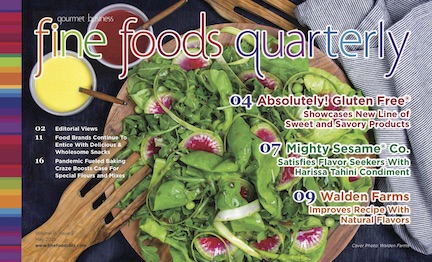 Getting Back To Business
Gentleman (and gentlewomen) start your engines! The amazing product race is about to restart after a rather lengthy yellow caution flag.
Just like that my schedule is seeming very busy as I get to once again crisscross the world to attend a variety of rescheduled and previously scheduled shows and trade events, and you will not hear me complain one bit! It's hard to sit on the bench when you are so use to being part of the action, and feeding off the excitement that industry business partners bring to our business. So it's off to Sweets & Snacks, SFFS, NPE, Atlanta, Dallas, Vegas, Anuga…and the list goes on.
The last sixteen months were certainly not very easy for everyone involved in creating, marketing, and publicizing products and events. I want to personally thank all of my industry colleagues for keeping us in the know any way that they could. I was impressed with the innovative approaches that many in the business used to continue their efforts to inform, educate, and build demand for their products among both retail buyers and consumers in extremely challenging and limiting times. When the going gets tough, as they say, the tough get going, and so many brands continued their drive to success instead of throwing up their hands in disgust. Challenged with disruption in ingredients, packaging, production, logistics, and remote employees, sh…well, stuff, still managed to get done.
If you attend one of the numerous trade shows in the coming months, do stop for a moment to appreciate the difficult environment in which these products were developed or imported from another part of the world. I am grateful for all of the hard work because I think that innovation and newness is an absolute necessity to creating consumer excitement at the point of sale, which drives the retail sales that we all depend on.
Thank god we made it through. Go forth and prosper!