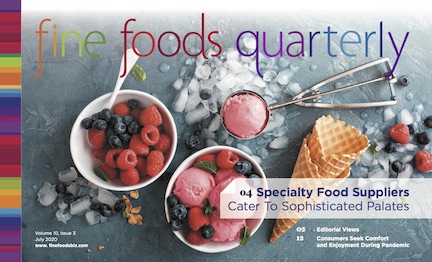 Finding Comfort in Food
In an uncertain world like we live in today as a result of the Coronavirus pandemic, there is a real need for comfort, which many are gleaning from the consumption of hearty and flavorful specialty foods. I had already seen a move toward renewed comfort foods prior to the COVID-19 outbreak. While one part of the market was moving to more specialized foods sourced from far corners of the world, some specialty food developers were turning to simple and classic American preparations, and updating them with the better quality ingredients and clean labels that are expected by consumers today.
During the home quarantine period my daughters, whom live fairly active social lives, and I am sure felt more uneasy about the lengthy confine to our modest home, pleaded for me to drive a half hour to Boston to pick up a dozen homemade specialty donuts from the premiere vendor in the city. It was one of the few businesses that immediately reopened for order ahead and take out when the restrictions were relaxed. I was reluctant and concerned about going out in public, but it was my daughter's birthday, and I couldn't stand the thought of not doing something special to mark the occasion. It was an eerie sight driving into the center of the now desolate business district of Boston, the silence only broken by the flurry of activity in front Kane's donuts, as cars jockeyed for position in order to pause, and pick up their order. It is one of those visions that will likely stick with me for a long time because it was the only time I had left home in over a month and a half other than quick local grocery store runs, and I had never had such a quick trip into the city.
It could easily have been ten years since the last time I consumed a donut, not that I don't like them, it just doesn't cross my mind or hasn't been put in front of me. The excitement and sudden smiles that these specialty donuts brought to my family made them seem like gold to me. It was nice to see how something so simple, could bring so much pleasure….and boy they were good! I don't think there was a person in the room that was even considering the calorie count of the glazed chunk of delicious fried dough that was to be consumed, and they were gone in an instant. I suppose you couldn't buy that much comfort so easily at that moment in time.
In this issue we will cover both extremes found in the specialty food marketplace. On the one hand, I find that flavors and creations are becoming more "exotic" and special. Then there is the segment of the market that has devoted their business to creating comfort foods that are made with good ingredients while being sensitive to special dietary requirements.