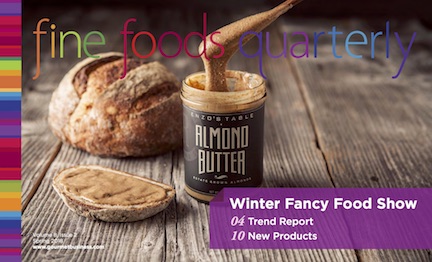 The Snacks Just Keep Getting Better
It is looking like another interesting year in the specialty food business, as the current trends filter into the new product offerings. The Millennial generation is certainly demanding healthy alternatives with clean labels. Avocados are in demand because of their healthy attributes, and their flavors are finding their way into many new products. The Subway sandwich chain is often focusing their marketing and promotion on avocado as an up-sell, suggesting that they are becoming a popular and healthy addition to the mainstream diet.
Foods that I have seen introduced this year are also bolder than ever before, with big flavors being the calling card for new trials. Ghost pepper, the hottest of hot flavors, are appearing much more frequently as ingredients to appeal to those consumers that like it spicy. I think the spicier flavors are also used effectively in many of the healthy snacking options being presented to market to help overpower flavors inherent with the ingredient that may be less enticing, and broaden the appeal to a larger group of consumers.
Since the younger generation are well-known for their tendency to snack during the day instead of eating meals, there has been a lot of energy going into development of foods that can deliver a lot of nutrients in an a portable food format. These snacks have little to no preservatives, a short and nutritious ingredient list, and taste great too! Consumers are fortunate that they don't have to choose between what tastes great and what is good for them as they have in the past. It's now possible to get your cake and eat it too…only the cake is more likely sweetened with organic apple sauce, has no added sugar, and contains stone ground flour from ancient grains. I see these food product introductions as being the most relevant and demanded products of the year.