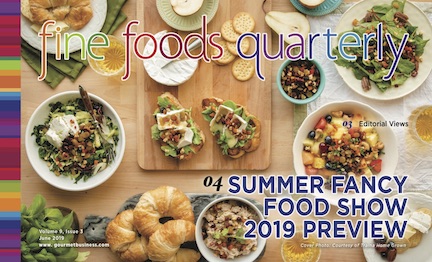 Covering the Summer Fancy Food Show is always interesting to me because of the diversity of products, and interesting stories surrounding the product development and inspiration for the foods. It's clear that food manufacturers are aware that there is a demand in the marketplace for authentic flavors, especially by the younger generation. Some research published recently found that younger buyers were spending more money on food than were their older counterparts. For this reason, you will see that a lot of the product development is centered on the preferences of Millennial food shoppers, which is certainly different than that of previous generations.
In this issue you will see a preview of some of the interesting new products that will be on display at the Summer Fancy Food Show in NYC. I think you will be intrigued with the grouping of products because it seems so different than what we typically saw a few years ago. Take notice of the clean ingredients, and the unique flavor profiles. Understand all of the healthy ingredients that are now being used to produce food that is as good for you as it tastes. You will encounter a number of different diets that the food has been formulated to support, it's not as simple as when gluten-free was the primary attribute that was called out on packaging.
I hope you enjoy your flavor experiences, and learn a great deal about the foods being created for the present market.